Use this screen to define SMS forwarding rules for your account. These rules allow you to direct your email and SMS to other places: your phone or other email accounts.
All incoming information will be checked against these rules and if any of the rules "fire", then information will be forwarded as per instructions you provided.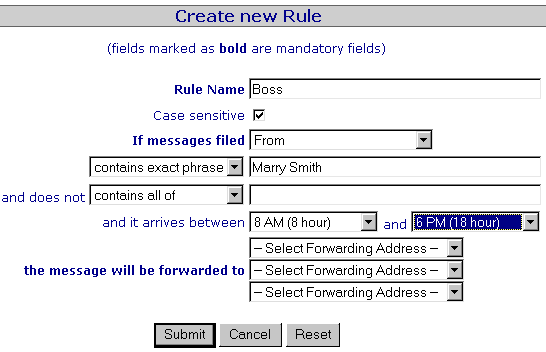 On the Create New Rule page:

| | |
| --- | --- |
| For this field | Provide this |
| Rule Name | The name of the rule |
| Case sensitive | Select this field if you want exact matching to occur. |
| Field type | Every email consists of several parts. For example, email has a From field, To field, Subject field and so on. Select the one that you want to compare with. |
| Time | Select hours of day this rule is valid. For example, the rule presented here is for the manager of the owner of this account. The owner is interested in receiving messages from his boss only between hours of 8 AM and 6 PM. This is in your time zone (from your SMS Settings) |
| Forward to | Select up to three devices to have messages forwarded to. Note that only confirmed devices will show up in these fields. |

Click Submit to save your changes.
Click Clear to clear all fields and start again.
To learn how to FORWARD SMS to your mobile phone or your email, click here.
Note: forwarding counts as a transaction subject to a cost of one credit.